Welcome to Virtual Harry, a site dedicated to the world of Harry Potter.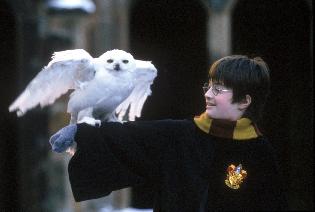 Here you can begin your journey to become a witch or wizard. Be sorted into a school house, try your hand at wizard dueling, join the Quidditch team, or just see what character you most fit in the world of Harry Potter. When you've made it through all that, check out some sweet links, or send me some fan fiction!
---
Dumbledore's Army Online
7/10/03: Hi, everyone! If you've finished Harry Potter Book 5, please swing by my new Harry Potter site, Dumbledore's Army Online! Since this place hasn't had a lot of changes lately, and there was a major addition to the Harry Potter world recently, I thought it was time for a change. Thanks!

---
Harry's Back!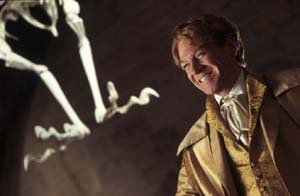 11/15/02: I have just returned from seeing Harry Potter and the Chamber of Secrets. I'm sure you'll all be shocked to hear me say this: it was excellent. It was as accurate as anyone could expect within reasonable time constraints, Hermione knew everything she should have, Ron made all the right faces (and voices), and Harry, of course, was everyone's hero. Richard Harris made his final role a memorable one, bringing Albus Dumbledore to life better than ever before. All the teachers were played well, especially Snape and Hagrid. The spiders and the basilisk were properly creepy, as was the Chamber itself. Top that off with a hilarious performance by Kenneth Branagh as Gilderoy Lockhart and you have an awesome 161 minutes on your hands. If you haven't seen it yet, you need to. Right now, if possible. Why are you still reading this? Go buy tickets! (No, Warner Brothers is not paying me.)
---
---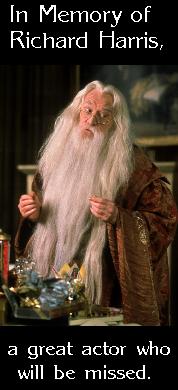 ---
free hit counter
View My Guestbook
Sign My Guestbook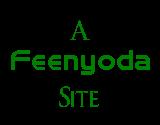 ---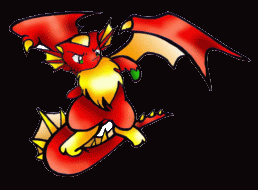 ---

---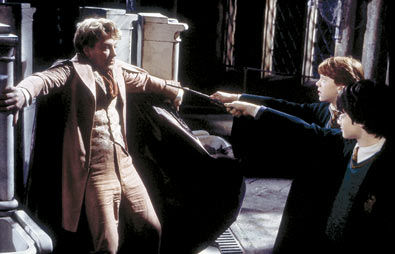 Sure you don't want to stay?